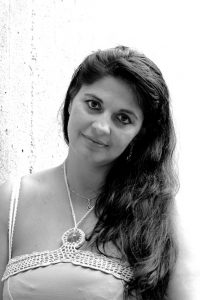 Based in Bergen, Norway, mezzosoprano/contralto Daniela Iancu is a graduate of the Music Academy in Timisoara, Romania, where she studied with various teachers: Ana Stan, Sabadus Elena and Teodora Ciucur.
In 2008 Iancu completed her graduate study led by professor Ionel Pantea at the Music Academy in Timisoara. The study emphasized in particular the interpretation of contemporary music.
After completing studies in 1999 she sang the role of Azucena in Verdi's The Troubadour at the Romanian National Opera in Timisoara. In the same theater she sang Ulrica in Verdi's A Masked Ball.
Iancu has been a soloist in several works, including: Haydn's The Creation, Rossini's Stabat mater, Mozart's Requiem, Kronungsmesse, Beethoven's 9th symphony, Pergolesis Stabat mater, Mendelssohn's Elijah, Schumann's Paradise and the Peri, and Verdi's Requiem.
From 1993 to 2005 Iancu sang in the award-winning choir Sursum Corda, led by Diodor Nicoară. She was employed in Timisoara Philharmonic Choir Ion Romanu from 1992 to 2010. Both choirs have done extensive touring throughout Europe.
Iancu is currently working with Bergen National Opera and Edvard Grieg Kor and performs both as a soloist and a choir singer.