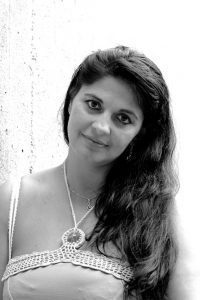 Based in Bergen, Norway, the Romanian-Norwegian mezzosoprano/contralto Daniela Iancu is a graduate of the Music Academy in Timisoara, Romania, where she studied seven years with various teachers: Ana Stan, Elena Sabadus, Teodora Ciucur and Corneliu Murgu.
Iancu is currently working with Bergen National Opera, Edvard Grieg Vocal ensemble and Bergen Philharmonic Orchestra. She performs both as a soloist and a choir singer from 2010, as well as working as a freelancer. She teaches singing lessons as private and also conducts Bjørgvin Vokal, a mixed choir, founded in 1952.
In 2008 Iancu completed her graduate Master study led by professor Ionel Pantea at the Music Academy in Timisoara. The study emphasized in particular the interpretation of contemporary music.
In 2017 and 2019 she fulfilled in Sweden the Aurora Music Master class of Opera and Lied, in opera, oratorio, chamber music and concerts, with Gitta-Maria Sjöberg, Gisela Stille and John Lundgren. With Gitta-Maria Sjöberg and six others, Katarina Karnèus, Matti Borg, Mette Borg, Mats Jansson, Hans Gefors and Fredrik de Jounge, in 2018 Daniela fulfilled the Nordic Song Festival Master class, in songs and romances in the Nordic languages.
Daniela's repertoire ranges from Giulio Caccini and Bach vocal works to music by today's composers, and includes operas, oratorios, romances and contemporary music.
She completed her studies in 1999, and the following year she debuted in the role of Azucena in Verdi's The Troubadour at the Romanian National Opera in Timisoara in 2000. In the same theater she sang Ulrica in Verdi's A Masked Ball.
In March 2013 she made her solo debut in Bergen, Norway. In Den Nye Opera's production of The Cunning Little Vixen by Leoš Janáček, she sang the roles of the Forest's wife and the Owl.
Iancu has been a soloist in several works, including: Haydn's The Creation, Rossini's Stabat Mater, Mozart's Requiem, Kronungsmesse, Beethoven's 9th symphony, Pergolesi's Stabat Mater, Mendelssohn's Elijah, Handel's Messiah, Schumann's Paradise and the Peri, Verdi's Requiem, Ralph Vaughan Williams' Serenade to Music and Respighi's Lauda per la Natività del Signore.
From 1993 to 2005 Iancu sang in the award-winning choir Sursum Corda, led by Diodor Nicoară. She was employed in Timisoara Philharmonic Choir Ion Romanu from 1992 to 2010. Both choirs have done extensive touring throughout Europe.